News
Jeudi 06 Septembre 2018
Big rise of the summer traffic and four new routes !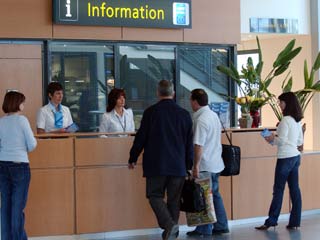 The traffic of Pau Pyrénées airport knew a rise with two digits during the summer 2018 (+16% in July and +13.5% in August compared to the same months last year).

This progression is explained partly by the use of planes of greater capacity on Paris Charles-of-Gaulle (13% of additional passengers) and on Lyon (28% of additional passengers).

A new connection was created on Corsica by Hop! Air France, which proposes from now on two distinct lines until September 29th (Ajaccio and Bastia) all the saturdays. This innovation allowed as of now attracting more of the double of passengers compared to last summer. Over the same period, all lines confused, the number of cancelled flights was divided by four. 99% of the programmed scheduled flights were thus carried out.

With the office plurality of the year 2018, the traffic is in rise of almost 2%. The frequentation of the lines between Pau and Paris is stable compared to last year, which testifies to the fidelity of the customers in a railway context of reinforced competition.

Four new lines were in addition announced during the summer :
- Brest and Caen all samedis by Hop! Air France during the vacancies of Christmas, winter and April
- Strasbourg on the same model by November 24th, 2018
- Paris Charles-with Gaulle by easyJet from February 4th to March 3rd, 2019 (from 7 to 10 flights per week)

During the two last years, the number of destinations and airline companies serving the airport Pau Pyrénées doubled, to be established from now on with 13 lines operated by 7 companies.