Hystory of aviation in Pau
Pau, the birthplace of aviation in Aquitaine
After signing a licence agreement with the "Compagnie Générale de Navigation Aérienne" in 1908, the Wright brothers had settled in Le Mans for their first demonstrations.
However, the vagaries of the weather led them to fear delays in the contractual training of pilots…
One of these trainee pilots, Paul Tissandier, took the initiative of contacting the town of Pau, which dispatched a delegation to demonstrate, with statistics in support of their claims, the mildness of Pau's climate and the advantages of moving to Pau.
Wilbur Wright was convinced and, in January 1909, the Wright family arrived in Pau, where the first flight on the "Flyer" took place on 3rd February 1909 – a date which also marks the first flight of an aeroplane in the Béarn.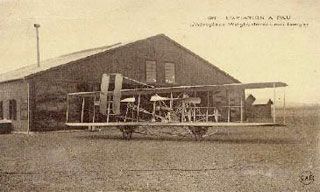 From the Wright brothers to Blériot
On the 20th March, Wilbur Wright flew at Pont-Long for the last time and left Pau to make presentations in Europe.
The flying school founded by the Wright brothers was entrusted to Paul Tissandier who, for some time, continued to train civil and military pilots.
French aviators like Louis Blériot had come to Pau to watch the exploits of the "Flyer".
After becoming famous for being the first man to fly across the English Channel in his Blériot XI monoplane on 25th July 1909, Blériot came back to Pau and opened his own flying school in November of that year.
From military aviation...
In turn, numerous other French manufacturers came to open a facility in Pau, which was thus becoming a major centre for aviation training and experimentation.
Several records for distance, speed and altitude were broken in Pau, particularly by Blériot and Déperdussin planes.
In 1911, the French Army considered it necessary to create a military pilot's licence with specific tests and, in 1912, military aviation is officially created.
From then on, aviation became a permanent fixture in Pau. Following the lead of the private schools, a military aviation school began to train pilots in Pau and, when the First World War broke out, the numbers of its trainees and its capacity grew to such an extent that it became one of the largest flying schools in France.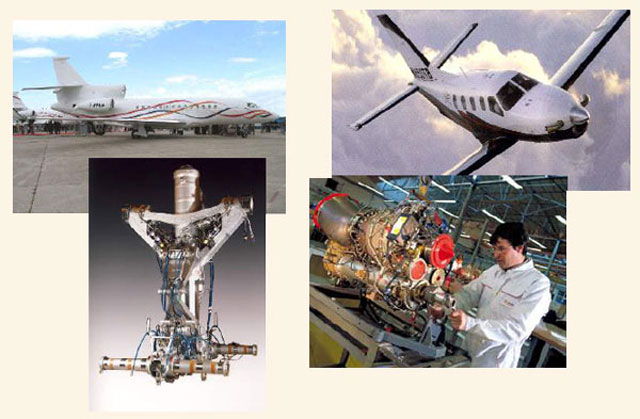 ... to the creation of the Adour Basin aeronautical activity cluster
Just before the outbreak of the Second World War and up to 1941, the Adour Basin saw the arrival of numerous aeronautical companies which, when peace returned, established worldwide reputations and contributed to maintaining the region's aeronautical vocation.
This was to be the case of Dassault-Aviation in Anglet (originally Latécoère, then Breguet), Fouga and then Potez in Aire-sur-l'Adour, Turbomeca in Bordes and Tarnos, Messier (now Messier-Dowty) in Arudy and Bidos, and finally Daher-Socata (Morane-Saulnier) in Tarbes Ossun.
A cluster of aeronautical sub-contractors has gradually developed around these prime manufacturers, which today makes the Adour Basin a major contributor to the region's "Aerospace Valley".