News
Samedi 23 Décembre 2017
23 December : Opening of the new link Lille-Pau with Hop! Air France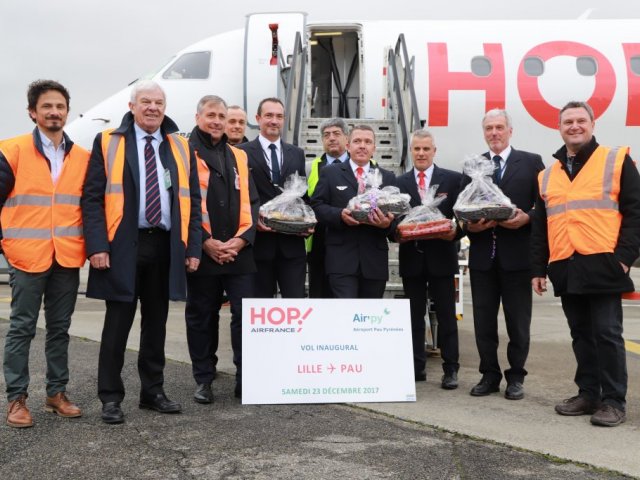 The inauguration of the new link between Lille and Pau took place on Saturday 23 December 2017.
Mr. Didier Laporte, president of Air'py, manager of the airport Pau Pyrenees, accompanied in particular by Mr. Jean-Paul Brin, president of the Joint Union of the Pau Pyrenees Airport, Myriam jams, representing Mrs. Hélène Abraham (Director General Assistant Hop! Air France), and Guillaume Roger, operational director of N'Py, were present on the tarmac to host this first flight.
The aircraft was baptized with the traditional water sheaf and gifts were given to the crew and passengers, numbering 91 on arrival and 82 at the start, a filling rate of more than 85% for this first rotation.
The flights are operated every Saturday until 17 March 2018, in Embraer 190 of 100 seats, from 49 € * TTC the one-way ticket.
It is possible to combine a go in direct flight on Saturdays and a return via Lyon every other day of the week (or in the same way, a go via Lyon and a return in direct flight).
For the Lille and the Belgian skiers, shuttles to the Pyrenean ski resorts are put in place at the arrival and departure of the flights.