Destinations
regular flights
London Heathrow
connecting flight via Paris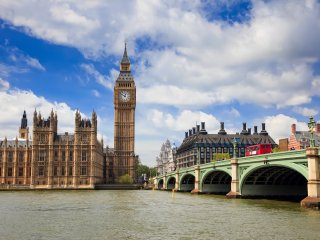 Presentation
London has something for everyone! Sightseeing, museums, day trips, shopping, sports events... so many choices for a fabulous weekend.
London is the ideal getaway for a change in scenery and the hottest new trends. It's a fascinating and attractive city, even the second and third time around.

The English capital will undoubtedly win over the greatest of sceptics with its undeniable English charm. Must-see sights include the royal Buckingham Palace, the Changing of the Guard, Westminster Abbey, Big Ben, the House of Parliament, Piccadilly Circus, and Tower Bridge.
London is a vibrant and lively city. Take your family or friends for a ride on the ferris wheel (London Eye), with its breathtaking views of the city, or stroll through the markets in Camden Town. If you go as a couple, let yourself be captivated by the romanticism of the English capital. Travelling on business? The City of London is London's business district, where you can combine both work and pleasure. Finally, the Olympic Games have created lots of new places to visit in this capital city, even for those who thought they already knew everything about London! Welcome!

Find more ideas for your visit at www.visitlondon.com.
Location
London Heathrow Airport is 15 minutes by train from London city center.
Transport
Bus : Heathrow Express provides connection between the Airport and London Paddington station
Taxi: Taxis are available outside the terminal.
Informations
Availability : Connecting flight via Paris Charles de Gaulle
Requirements: Valid ID card
Languages: English
Currency: Pound Sterling
Booking on: www.airfrance.fr
Useful links

Oyster Card
What can an Oyster card do for you ?
Oyster is the most affordable way to get around by bus, metro (Tube), tram, and DLR, including the London Overground network and London's National Rail. Your Oyster card is reusable and reloadable. For more information, visit www.visitbritainshop.com
London Pass
Visiting London has never been easier! With the London Pass, you can explore new facets of the English capital. For more information, visit www.visitbritainshop.com