Destinations
regular flights
Bastia
1 weekly flight with Hop! Air France from June to September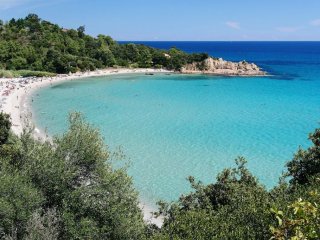 Presentation
Corsica's main port, Bastia or La Bastiglia (the bastion), is best savoured slowly like a glass of Gioielli, the famous wine of Cap Corse, to its northeast. The timeless Bastia is a registered City of Art and History that also serves at the departure point to the natural wonders of Cap Corse, Corte, and Calvi.
Once a small port called Porto Cardo, Bastia owes its name to the Genovese who built a bastion there, the current citadel. Today, the economic capital of Corsica known as "the Island of beauty" is a prosperous city served by many airlines and ferries. Bastia has maintained its authenticity, with its old steep streets that lead down to the harbour, while also adapting to accommodate the influx of tourists drawn to its beaches and backcountry.
Learn more about this destination at http://www.visit-corsica.com
Location
The Bastia Airport is located 16km from the town of Bastia.
Transport
Bus: There are shuttle buses that run between the airport and the city centre.
Taxi: Taxis are available outside the terminal.
Informations
Flight time: 2hours
Availability: Flight offered in summer by Hop!
Reservations: www.hop.fr
Requirements: Valid ID card