Destinations
regular flights
holiday flights
Nantes
9 weekly flights with Chalair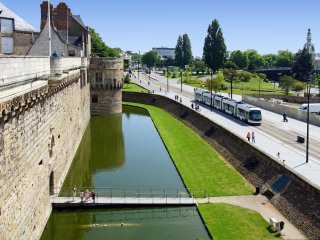 Presentation
Nantes, the largest city in western France boasts dynamic business, fine architecture and a modern cultural agenda. Linked to Saint Nazaire, Nantes is the second largest port in France. With Atlantic Ocean beaches less than 50 kilometres away and the banks of the Loire further inland, the city of Nantes offers an unparalleled quality of life.
Nantes is today one of the most dynamic urban areas in the country. A leading national hub for ship-building, the second largest centre of activity for Airbus and for the French agri-food market after Rungis near Paris, the city is also very much turned towards the service sector. Its youthful population (two thirds of inhabitants are under 40 years of age) is highly appreciative of the city's urban culture geared towards street shows and events of international calibre.
For a comprehensive guide to this destination, visit http://www.nantes-tourisme.com
Location
Nantes airport is located 10kms from the town center of Nantes.
Transport
Bus: There are shuttle buses that run between the airport and the city (trip duration 25 minutes).

Taxi: Taxis are available outside the terminal.
Informations
Flight time : 1 hour 15 min

Administrative formalities: valid passport or identity card

Currency: Euro

Booking on chalair.fr ou airfrance.fr
Flights
To Nantes (NTE)

from 2019/03/30
to 2019/10/26

09:30

10:45


SMTWTFS

CE 062
from 2019/03/30
to 2019/10/26

18:55

20:10


SMTWTFS

CE 064

From Nantes (NTE)

from 2019/03/30
to 2019/10/26

07:55

09:05


SMTWTFS

CE 061
from 2019/03/30
to 2019/10/26

17:10

18:20


SMTWTFS

CE 063
schedules and day are subject to change without notice.