Destinations
regular flights
holiday flights
Lille
1 weekly flight by Hop! Air France from December to April 2019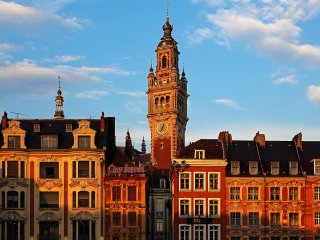 Presentation
Flemish, Burgundy and then Spanish before becoming French, Lille has an exceptional architectural heritage.
Merchant since the Middle Age, citadel under Louis XIV, industrial in the nineteenth and ambitious in the twentieth century, the city preserves the vestiges of this past, while looking forward to the future.
The district of Euralille is a concentrate of architectural audacities signed Rem Koolhaas, Jean Nouvel or Christian of Portzamparc.
With lille3000, the whole city turns to the future, transformed by the action of this cultural association which organizes international exhibitions in emblematic places, such as the Tripostal, and every two years about festive events over several months.
European Capital of Culture in 2004, Lille is now a reference in this field. In large prestigious museums or alternative art centers, from the Opera to the numerous theaters to the national orchestra of Lille, culture is lived and shared every day.
Proud of its festive and gastronomic traditions, the capital of Flanders remains a city with a human dimension, where breathe the generosity and warmth of the people of the North.
With its singularity, it offers visitors a rich mix of Flemish joviality and French elegance, in the heart of the youngest region of France.
More information on www.lilletourism.com